Catch & Release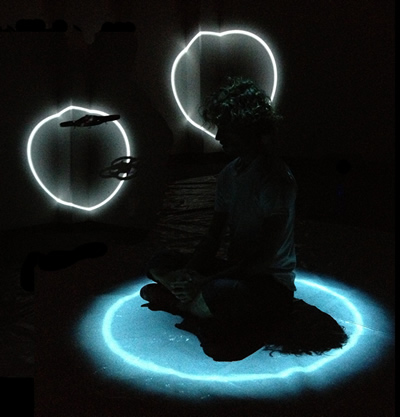 Catch & Release is a performative exploration of the connection between man and machine through improvisational dance and virtual embodiment.
We utilized drone technology and an intelligent interactive audio visual stage to create a world in which to explore new ways of relating to semi-autonomous robotics, and the delicate balance of control that exists between tool user and tools. The piece echoes a primitive world where the drone is encountered as a wild animal to be tamed, a technology to be discovered, or a tool to be used or controlled. As the piece progresses it unfolds into a tense and energetic exchange between performer and robot beast, at times in his control and at other moments unpredictable.
As humans we have the innate impulse to form emotional bonds with other forms of life and our surroundings. How can these impulses help us shape the future of technology to create more meaningful and fulfilling experiences. At its core, the piece is about balance and relationship to the unknown.
To give the drone a complex set of behaviors we combined both live human control of the robot and modes of autonomous directed flight via a custom software platform using OpenDroneControl and an OptiTrack infrared motion tracking system.
Performances
Life in the Age of Drones Symposium, February 28th - March 1st, 2013. MAT transLAB [flyer]
MAT End of Year Show, "Shadows in Space", May 23rd, 2013.
Team: Sterling Crispin, RJ Duran, Tim Wood
Lab: Transvergent Research Group (transLAB)
Tools: Parrot AR.Drone Quadcopter (V2), Max 6, OpenDroneControl max external, OptiTrack Infrared Motion Tracking System (V100:R2 cameras)

Images